Pre-Order Opportunity
The Tangent is excited to announce the new album by Kalman Filter "The Moons Of Neptune"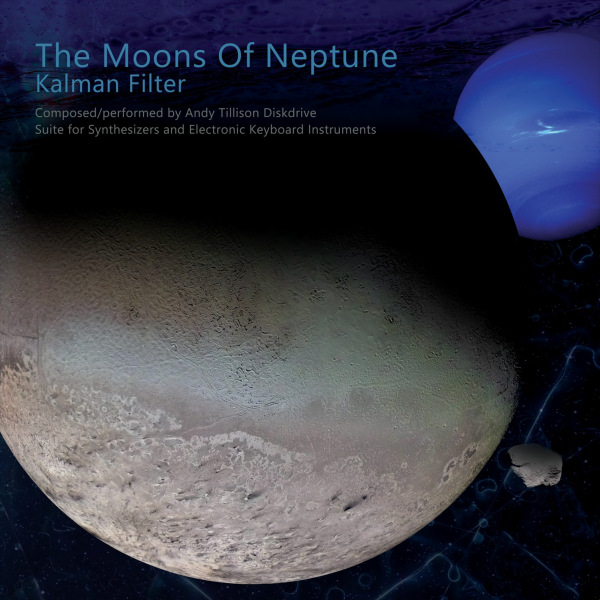 Kalman Filter is the German Electronica division of The Tangent stable and features Andy Tillison's Instrumental and atmospheric work which continues the themes and styles of his early solo albums like "Fog" and "Murk".
The second Kalman Filter Title "The Moons Of Neptune" is an album written in an isolated part of planet Earth and written about one of its most distant neighbours. So distant is Neptune that we only discovered it had 14 Moons in the past few Decades - beleiving there to only be two until the erly 1980s when Voyager finally flew past to give us the extra information,
"It is a cold place" Andy says, "and as such I have tried to use an icy palette of sounds for this set of pieces. I've found myself looking earlier into the Berlin School history than normal and Tangerine Dream albums like Zeit and Alpha Centauri have been influential here - but I've still got that love of the burbling sequencer lines, so I haven't eschewed those".
And he hasn't entirely eschewed some out and out Prog moments either, and flashes of Jazz fusion photo bomb the proceedings from time to time.
The album's 14 pieces range in length from 30 seconds to 14 minutes, some of the tracks "stand alone" and some run into one another.
The CD edition that is planned will include the whole of the project naturally - although this album is what you would normally think of as "Vinyl Length" - about 45 minute all told. Therefore the CD edition will include something else in the same direction, but Andy is not yet decided about what this is going to be as he has "several options on the table"
This album is entirely composed and performed by Andy Tillison Diskdrive using a variety of Synthesisers, pianos, organs ond other entirely electronic instruments. It is an instrumental album.
The CD has no release date set, this will depend on demand and also of course on COVID – 19 lock down restrictions and the resulting manufacturing timeline and logistics, the intention is however that the album will be released by Summer of 2021 if not before.
Availability
NOTE!! This album will be available at lower prices when formally released.
Kalman Filter "The Moons Of Neptune" will be available in 3 price points as normal.
Megafan (Name On The Cover) Pre-Order
NOTE!! PRE-ORDER Items will be despatched as soon as ready
This is our premium megafan package for enthusiasts and supporters who wish to help fund our musical work for the Tangent and more. This includes your name in the CD booklet/digipack and access to the current mixes of the album (the whole 45 mins is available straight away - though the mix will change)
---
Pay The Wages Pre-Order
NOTE!! PRE-ORDER Items will be despatched as soon as ready
Our second and less expensive package which contributes to the day to day running of Tangent Towers and our musical work. While this does not include "name on cover" it still give access to the music from the off, exactly as the more expensive option.
---
Family Member Pre-Order
NOTE!! PRE-ORDER Items will be despatched as soon as ready
This is simply a copy of the CD. and still for us a tremendous help and contribution to our work.
---
ALL pre-ordered copies will be signed unless otherwise requested.
Purchasers of options 1 & 2 will receive links to the full album's current state within 24 hours of ordering via the same email address used to order the CD.